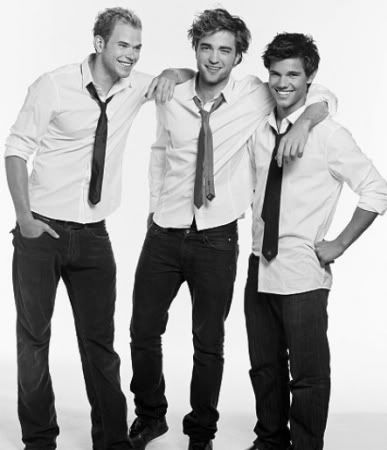 Crushable has announced the 25 most crushable guys under 25. Three of our Twi-guys make the cut!

Kellan Lutz, 24
Whether you know him from the Twilight Saga movies or his incredible sexy Calvin Klein X underwear ads, there's no denying Kellan is a hottie. Next up for him: Nightmare on Elm Street.

Robert Pattinson, 23
Let's face it, RPattz is dreamy. He's got a magical forest of washed-a-week-ago hair. He makes self-deprecating jokes. He climbs trees. He plays that handsome vampire dude in that movie you may have heard of, Twilight. And he's British. Any more questions?

Taylor Lautner, 18
You've seen him shirtless, and he finally turned 18. It's no longer socially unacceptable (or illegal) to admit how much you love Taylor and his washboard abs, even if the ones in the New Moon poster were Photoshopped.
PS- I know that photo is old but it's one of my favorites.. Gotta love our Twi-guys in ties :D