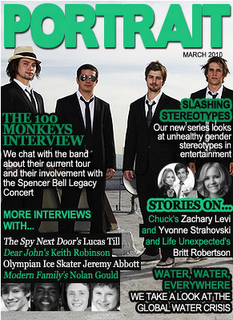 Jackson Rathbone's band 100 Monkeys is on the Portrait Magazine this month. Here is the full interview!
Hi Guys. Could you tell us about the Spencer Bell Legacy concert? How did you get involved?
The members of 100 Monkeys have been working with the Bell family and Dr. Gary Hammer for a few years now, putting on the legacy shows and trying to spread the word of Spencer's music and art since he passed away in 2006. We got involved because many of us were personal friends of Spencer's, and bringing his music to other people means a lot to us.
Can you tell our readers a little about Adrenal cancer and what an orphan cancer is?
Adrenal cancer is very rare compared to other more common cancers, and as a result it gets less public attention and receives less funding for research. Because of the way it starts and can spread through the body, it is frequently discovered in its later stages, and is frequently fatal.
(Note from Editor: The symptoms of early Adrenal Cancer can mimic other common health problems, and there is no standardized testing. Most often it is found when looking for something else.)
At the end of the day what do you most want to inspire in people through this concert?
It means a lot to us when we hear that listening to Spencer's music or reading his writing has inspired someone to pull their guitar out of the closet or start writing again. Anyone can create art and get satisfaction from the process, and when people come together as a group to celebrate and appreciate an artist's life and work, it can make you believe in yourself too.
In addition to the Spencer Bell Legacy Concert and raising awareness for Adrenal Cancer, what are some other charities and causes you feel strongly about?

Autism Speaks and Acts of Love are both causes we have supported. A couple of us (Ben Graupner and Ben Johnson) have worked as therapists with autistic children in the past, and we have a lot of awareness of autism in society today.
Read the rest of the article
Here!