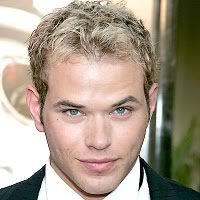 Twilight' heartthrob and the newest Calvin Klein underwear model Kellan Lutz has a surprising fashion suggestion for girls going on a first date.
When asked by Glamour magazine what a lady should wear when on a date, he responds instantly with "Socks."
He elaborates, "Like, cute animal printed socks or something like that. ... Because nobody knows she's wearing them except her, and then she takes off her thigh-high boots and has those bunny socks under there and it's just like 'oh man.' It makes the mood lighter, it just gets you guys laughing." The bachelor finished off his stylish response with, "And then ... you see where it goes from there."
I love Kellan's sense of humor! Seriously? Socks? I may have to try that one out! hehe