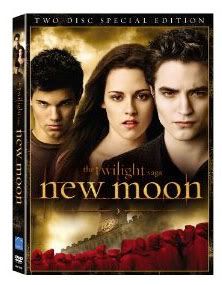 Borders bookstores have announced that they will be holding The Twilight Saga: New Moon DVD midnight release parties.
The event will take place at Borders book stores throughout the country and will start at 10:00 p.m. on March 19th. The stores will hold a fun 'Movie Awards' where attendees can download a ballot and vote on their favorite quotes, kissing scenes, songs etc…
There will be different activities depending on store locations, visit
BordersMedia
for more information and to find a store near you for specific release activities and availability.
Earlier in the week it was also announced that Borders' New Moon 2-disk DVD would contain about 25 minutes of extended scene material. The Exclusive Edition DVD also comes with a medallion necklace on a silver chain that has two sides; one is gold with the wolf pack tattoo, the other is silver and features the Cullen crest.
The Borders Exclusive
New Moon
DVD also contains interviews with cast members,
Robert Pattinson

,

Kristen Stewart
, Taylor Lautner, the Cullens, the Volturi, the Wolf Pack and director Chris Weitz. There is also red-carpet footage from the premiere with Kristen Stewart, Robert Pattinson, Taylor Lautner and more, and
The Twilight Saga: New Moon
WEBCAST.