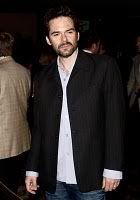 Recently, it was announced that The Twilight Saga: New Moon and The Twilight Saga: Eclipse star Billy Burke would be joining Rizzoli & Isles, a new dramatic television series, and, now, Moviehole is reporting that Burke has also joined the cast of Drive Angry.
Drive Angry, the source reports, is to be a 3-D film with the following description:
The picture, written by Todd Farmer, fixes on a rage-filled father (Nicolas Cage) hell-bent on revenge against those that killed his daughter, and kidnapped his granddaughter. The vendetta/rescue spins out of control as the chase gets bloodier by the mile, leaving bodies strewn along the highway.
That director is the same one responsible for the 3-D My Bloody Valentine (featuring Burke's Twilight series co-star, Edi Gathegi). Reportedly, filming for Drive Angry will begin next month in Louisiana.